Lifestyle Family Photography
If your children are growing a mile a minute and you aren't in any of your family photographs, I think it's time to schedule a family photography session!
I believe in documenting your genuine family connection. To preserve your memory of your family and children as they are now, even small, fleeting moments. I want you to authentically spend time with your family, while making an effort to be extra close. Focus on them and not my camera. Hold hands, kiss foreheads, nuzzle together, and wrap your arms around each other. Look for those opportunities to be intentionally affectionate with one another.
What is a Lifestyle Family Session like?
These sessions are up to one hour long, which I've found is the perfect amount of time to warm up, take a few formal portraits and play together.
Lifestyle Family sessions are somewhere in between a formal portrait and a documentary approach. Each session usually begins with a few family portraits together, as attention spans are at their highest. We'll laugh and play, tell funny stories, and hear all about your children's favorite animals. I'll make sure to photograph each child alone and with each parent, and always am sure to grab a photograph of just mom and dad. Trust me, your children will treasure it forever.
I strive to create a session atmosphere that is very relaxing. I will find the perfect light, get you all cozied up to each other and offer light posing when needed. I will let you know when everyone should look at me, but for the majority of the session, I encourage you to look for the moments to connect.
At what ages should I schedule a session and when should I contact you to get on your schedule?
I truly believe that family photography can and should happen all year long! Popular occasions to have professional photography are when your children are first able to sit, take their first steps, or are celebrating a birthday. These are all great! I love seeing families annually and to see how everyone is growing and changing -- sometimes I'll even catch little things that you may have forgotten about already. It's crazy how quickly they change.
I would recommend reserving your session 4-6 weeks before your desired date. Outdoor fall sessions (in September, October or November) typically book up earlier during the summer.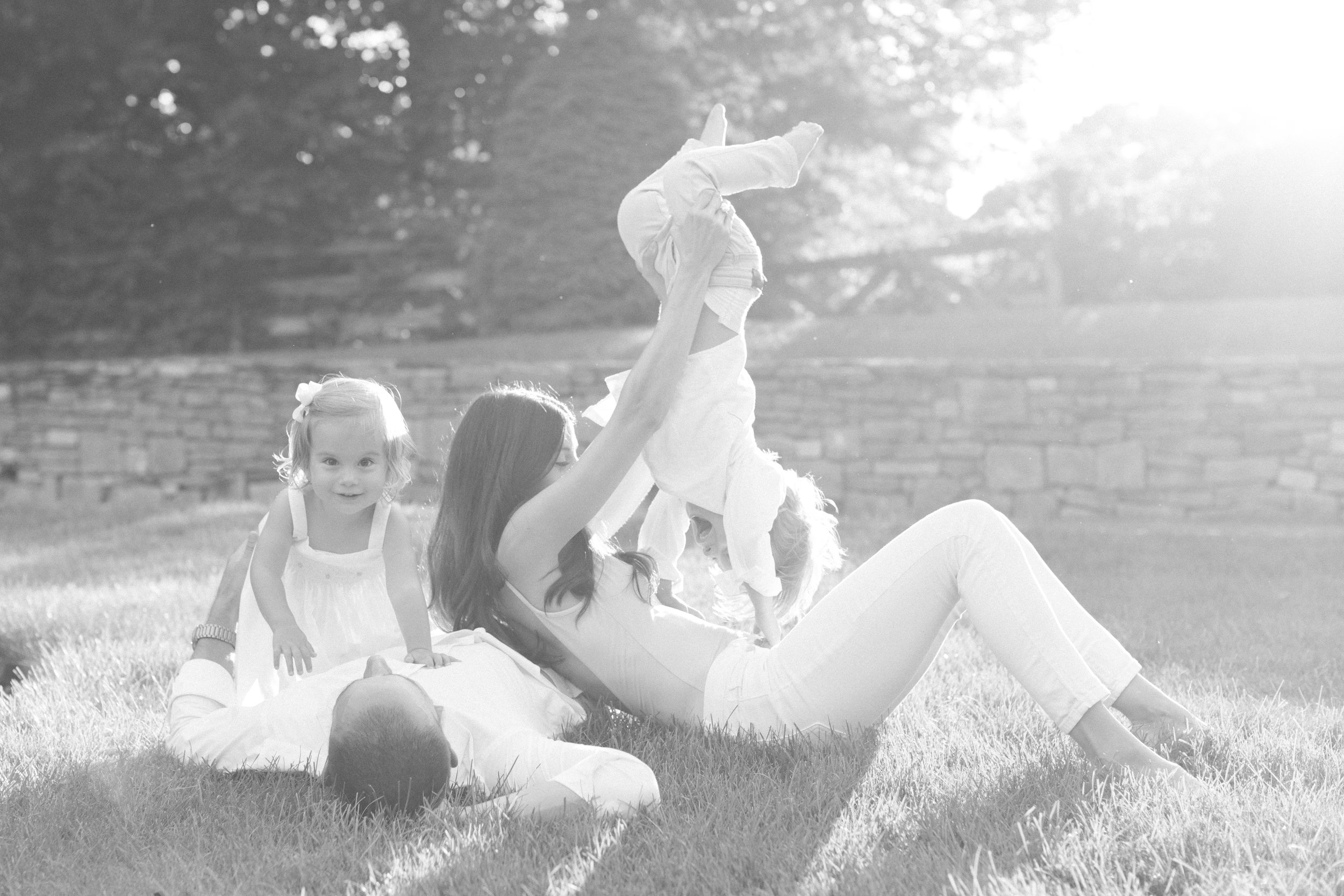 Where will our session be located, and during what time of day ?
The location of your session is a crucial element of the portrait planning process. I photograph exclusively with natural light, so you have the option of choosing outdoors or indoors providing there is ample window light. I always recommend choosing a place that's meaningful to your family, or that your children are familiar with. If you're new to the area or looking to explore, I can share my favorite local parks.
For outdoor sessions, I photograph in the softest light which is early in the morning (sometimes during sunrise!), or the hour and a half leading up to sunset in the evening. The timing changes depending on the season, as well as the location chosen. I know that in some months, this can be a challenging time for little ones! I have found that with the proper preparation and tips, most children do quite well.
For indoor sessions, we schedule around when your home is the brightest, typically late morning. A clean window space, with light or neutral colored walls is best. These are particularly fun sessions, as children are in their element - and in the space that you've created as a family.
What should we wear?
Upon reserving your session with me, I send along a guide with information about what to wear, details on how to prepare, and more of what to expect. You're welcome to send me outfit options along the way. Soft neutrals always photography beautifully, and are so timeless. Most importantly, everyone should be comfortable from their heads to their toes.
My toddler acts like a toddler?
I have been told by many families that I'm a toddler whisperer - a title I take very seriously and truly love! I have many tricks to distract your toddler from whatever may be bothering them, and engage them so they are happy. We are always able to take a break when needed.
There's inclement weather forecasted?
I think at this point I could be hired to give the local weather on air… I have lived in the area and photographed at so many locations that I know what weather will or won't work! Should the weather the day of your session be poor resulting in dark lighting or less than ideal shooting conditions, I will notify you about 2 days ahead of time that it may need to be rescheduled. The final decision is made the day before our session, and if there still will be poor weather, an alternative date is selected.
My children don't behave?
There are many reasons why this might happen. I always recommend rescheduling for sick children. In the guide I send out, I'll provide you with some tips on how to best prepare your children to set them up for success. Your children also feed off of their parents' energy - if you're starting to get frustrated, they will too! If it's just not your child's day (it happens to all of us!), you may reschedule for another session date and only pay an additional retainer fee (although I've never had this happen!).