Lifestyle Newborn Photography
Congratulations! If you're pregnant and thinking about a newborn session, I hope this post helps to answer your questions. I love lifestyle newborn sessions because there is a sense of peace with being in your home with your new baby. Everyone is so happy and in love, and it's completely infectious to be around.
I photograph these sessions in a relaxed and stress-free way. Trust me - I've seen it all and have never ending patience. Your baby is doing great! Your session is held in the comfort of your own home where you have everything that your new baby needs.
My style of newborn photography is baby-led. Our session flows around what your baby needs - feedings, diaper changes or bundled up with mom and dad. I'll gently guide you throughout our time together, creating beautiful natural moments with your newest family member.
What is a Newborn Session like?
Most newborn sessions are between 2-3 hours, depending on how many breaks baby needs.
The typical flow of our session will first focus on solo images of your baby, then individually with mom and dad, then siblings and then family portraits. Your baby runs the show - if they need a little more snuggling with mom or dad to begin with, we'll start with them wrapped in your arms. If dad needs to leave for work at some point, we'll begin with dad and family portraits!
I want you and your family to be as comfortable and relaxed as possible. I promise that your baby is not the fussiest, your toddler is not the most wild and your house isn't the messiest. You'll be so thankful you have these photographs once those tiny fingers and toes have grown!
When should I book a photographer?
I would book your photographer as soon as you find the one you love! Most mothers tend to book during their second trimester to ensure calendar availability. Plus, you can cross that off your to do list before baby comes! I understand how much you have going on during this exciting time, and will certainly accommodate last minute bookings when available.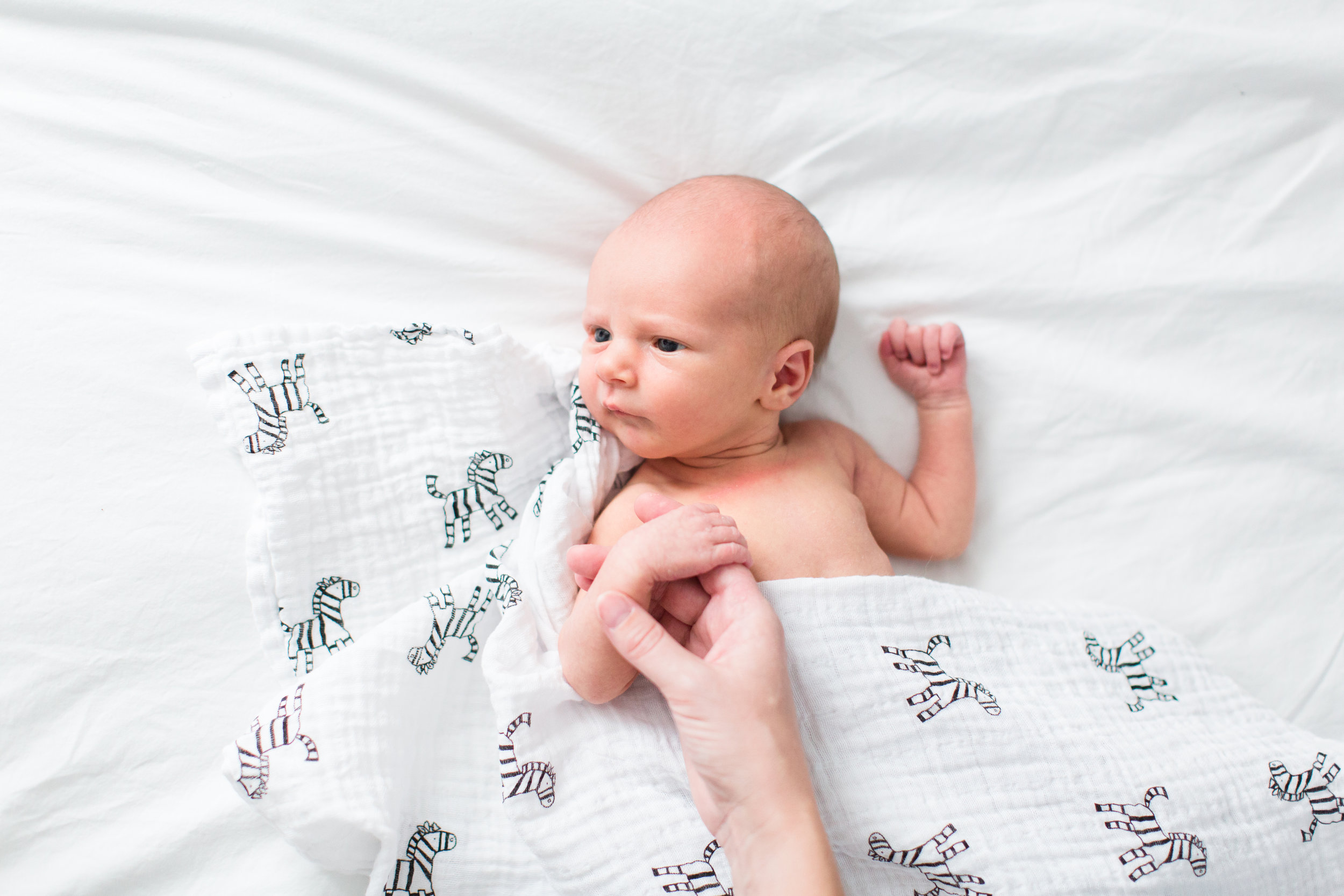 How old should my baby be for the session?
I recommend scheduling newborn sessions within about 7-10 days after birth. Babies are usually the sleepiest and most agreeable during this time. However, I understand if you need a little more time. Since this is a lifestyle session without any posing that your baby wouldn't naturally do, waiting until you and your baby are comfortably ready is no problem. I've photographed newborns up through 6 weeks old, and always put your & your babies' comfort over rushing to schedule a session.
What should we wear?
Upon reserving your session with me, I send along a guide with information about what to wear, details on how to prepare, and more of what to expect. You're welcome to send me outfit options along the way. My images are bright and classic, and I think that the best way to achieve that is to keep your clothing neutral and simple. For me, there's nothing better than a newborn in a onesie!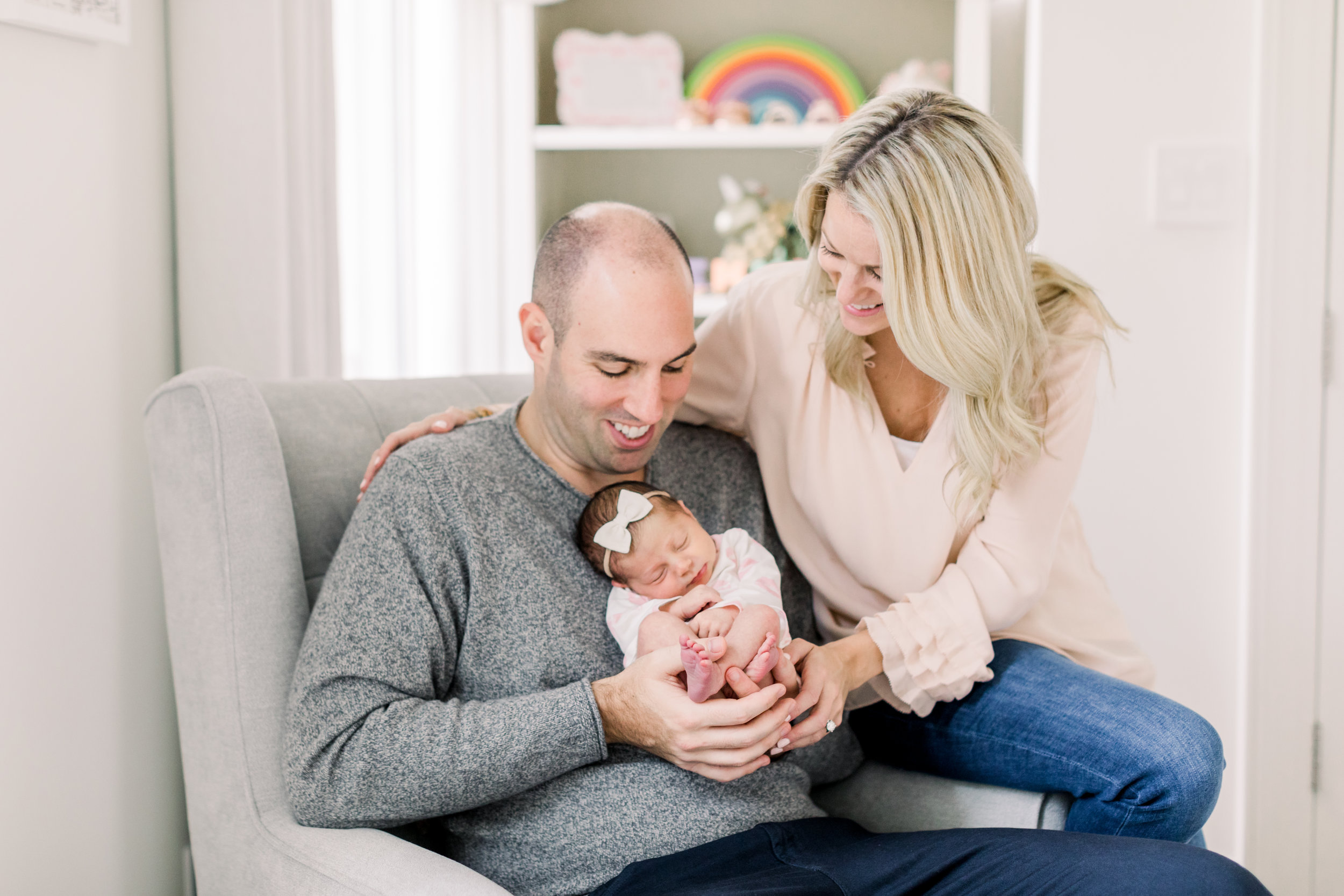 My toddler acts like a toddler?
I have photographed many toddlers in all sorts of situations! I have my own tricks for getting cooperation from stubborn toddlers. Another great benefit of having an at home session is that your child is in a comfortable place, with treats and toys available. And what toddler doesn't like to show off their room and their favorite toys?
My house is messy or not "done"?
No worries! When I arrive at your home, I'll do a quick walkthrough to find where your best natural light is. If anything needs a quick tidying up, I'll help. Your home does not have to be perfect to have beautiful images. I will find my favorite light-filled corner of your home, and focus on your new family's connections. At the end of the day, that's what makes a session meaningful, not your things. Those are just icing on the cake.
In the guide I send over, I include a few tips on how to prepare your baby for our session together, in the hopes that they are just falling asleep when I arrive. Your baby doesn't need to be asleep for the whole session - for the majority of the session they'll be happily bundled up in your arms, which will keep them happy and warm. We'll give your baby whatever he or she needs - and if nothing works, we'll be able to photograph their beautiful, curious eyes (and happy coos).